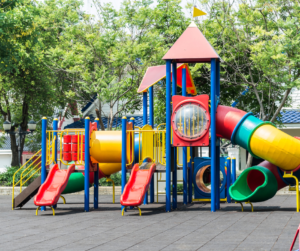 Having playground equipment at your facility is a great way for children to get outside, run off some energy, and enjoy playing with other kids. Over the winter months, inclement weather can have a damaging effect on your playground equipment and the area surrounding it. To ensure your playground is safe and ready for use, inspect and maintain all equipment on a regular basis.
Walk around the playground area and equipment. During this time, make note of any safety hazards that initially stand out. You also can pick up any trash, twigs, glass and other dangerous debris that accumulated over the winter. During your evaluation, document and fix anything that falls under the categories below.
Check that there are no sharp points, corners and edges on any of the equipment's parts.

All metal or wood corners should be rounded.
Wood parts should be smooth and free of splinters.

Protective caps should not be able to be loosened or removed without the use of a tool. Replace any missing or damaged protective caps before allowing children on the play set.
Ensure all nuts and bolts have lock washers, self-locking nuts or other locking means to prevent them from easily becoming loosened. Note that all hardware should be made of corrosion-resistant material.
As temperatures fluctuate, the ground hardens and then swells. Watch for holes and uneven surfaces on the playground's surrounding area as these can pose a fall hazard to children.
To reduce the risk of entrapment, there should be no openings on your playground equipment that measure between 3.5 and 9 inches. Pay special attention to openings at the top of a slide, between platforms, and on climbers where the distance between rungs might be less than nine inches.
Confirm all equipment is securely anchored to the ground. Additionally, make sure all anchoring devices are below ground level to eliminate the potential for tripping hazards.
Protrusions or projections should not be capable of entangling children's clothing.
The following should be fully intact:

Handrails
Guardrails
Protective barriers
Steps or rungs on ladders

Ensure all equipment is fully painted, galvanized or otherwise treated to prevent rust. This finish should be safe and contain low amounts of lead.
All S hooks should be fully squeezed closed and in good condition, with no visible signs of corrosion or deterioration.
Inspect the shock absorbing surface in and around the playground equipment to determine that it has not been displaced or compacted. If material such as wood chips, mulch, sand, or pea gravel is used make sure there is at least nine to 12 inches present.
Correct or remove any tripping hazards, such as exposed concrete footings, tree stumps and rocks.
Repair any areas that have inadequate drainage or low spots that would allow standing water.
Locate and maintain appropriate trash receptacles.
It is important to do whatever we can to keep our children safe. Just like you wouldn't drive a car that hadn't been inspected and properly maintained, you shouldn't let children play on unsafe playground equipment. In following the recommendations above, your playground will be well prepared and safe for the spring season. To learn more about playground safety, view the Playground Safety fact sheet on SafeChurch.
Originally posted on GuideOne
This material is for informational purposes only. It is not intended to give specific legal or risk management advice, nor are any suggested checklists or action plans intended to include or address all possible risk management exposures or solutions. You are encouraged to retain your own expert consultants and legal advisors in order to develop a risk management plan specific to your own activities.
ChurchInsure is a division of Anchor Insurance Agencies specializing in the unique insurance and risk management needs of religious institutions. Visit our website to learn how we can serve you at anchor-insurance.com/churchinsure.