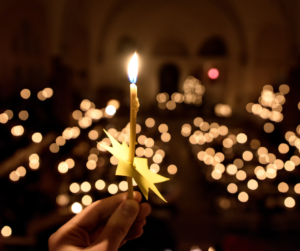 A fall, fire or other accident can take your holiday season from festive to frightening in a matter of moments, and these types of incidents tend to increase this time of year. The U.S. Consumer Product Safety Commission shared that the holiday season averages about 200 injuries related to holiday decorating each day, and during the 2019 holiday season, decorating-related injuries led to six fatalities.
The good news is, you can avoid becoming a statistic by being especially mindful of holiday hazards and taking smart precautions. We've rounded up the top five seasonal hazards and the steps you can take to avoid them. Here's to a happy and safe holiday season!
Holiday Hazard: A Christmas tree accidentally placed in front of a vent dries out and catches fire when exposed to a heat source.
Safe Solutions: Cast only the good kind of glow by being mindful of fire safety:
Consider using an artificial Christmas tree instead of a live tree. If you have a live tree, water it daily.
Do not overload extension cords.
Turn off decorative lights before leaving the building.
Consider using battery-powered candles instead of flame candles. If using flame candles, keep them away from combustible materials and make sure to extinguish them before leaving the building.
Keep holiday decorations away from heating sources.
Holiday Hazard: You slip and fall on a slick spot in your building's parking lot.
Safe Solutions: Keep an eye on conditions outside – and indoors as well:
Clear walking surfaces of snow and ice.
Use ice melt to prevent ice from forming.
Ensure handrails are sturdy.
Place nonslip floor mats at entrances and other areas where wet conditions may exist, and use warning signs to warn guests of slippery indoor surfaces.
When using a ladder to add or remove holiday decorations, make sure someone holds it.
Holiday Hazard: Toys collected for needy families during your recent gift drive go missing.
Safe Solutions: Put building security and financial upgrades in place:
Never leave items or money unattended – when an event ends, lock valuables in a secure spot that's out of sight.
Lock up before leaving the building.
Illuminate the building exterior, doors and parking lots from sunset to sunrise, and consider installing motion-activated lighting near doors and windows.
Train staff and approved volunteers on how to protect collection money.
Encourage staff and volunteers to watch for and communicate suspicious activities.
Holiday Hazard: Undercooked ham served at a holiday potluck sends guests to the hospital with a foodborne illness.
Safe Solutions: Train anyone who works in your kitchen on safe food prep, serving and sanitation procedures:
Wash your hands with warm, soapy water before and after handling food.
Separate raw, cooked and ready-to-eat foods while shopping, preparing or storing.
Use separate utensils for each food item during cooking and serving, and use one cutting board for produce and another for meat.
Ensure meat is thoroughly cooked before serving by checking the internal temperature with a meat thermometer.
Keep hot foods hot (140 degrees Fahrenheit or above) and cold foods cold (40 degrees Fahrenheit or below)
Holiday Hazard: A woman collapses at one of your gatherings.
Safe Solutions: Prepare staff and volunteers for emergencies – medical or otherwise:
Offer first-aid and emergency response training.
Identify key medical professionals in your organization.
Keep well-stocked first-aid kits at the ready.
Consider investing in an automated external defibrillator (AED).
Document and practice emergency plans and routes.
ChurchInsure is a division of Anchor Insurance Agencies specializing in the unique insurance and risk management needs of religious institutions. Visit our website to learn how we can serve you at anchor-insurance.com/churchinsure.
Originally posted on GuideOne