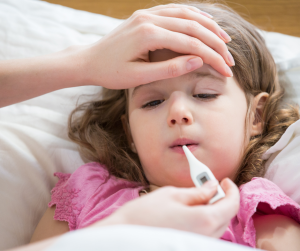 As the flu and RSV season gets underway, companies are asking themselves how they can support employees who need to stay home to care for their children.  In fact, last October, 104,000 Americans missed work because of "childcare problems" – the highest total since the Bureau of Labor Statistics began tracking the figure in 2003.  Although that number has since lowered, it has remained above historic levels. Experts have noted that one possible cause is the "Tripledemic" which includes flu, COVID, and RSV.
This isn't just a problem for parents.  Workplace absences are a problem for employers.  When parents have to take time off work to care for their children due to illnesses, school closures, or other unforeseen circumstances, it can create challenges for employers in terms of maintaining productivity, meeting deadlines, and ensuring a stable work environment. This is especially true in situations where there is a lack of adequate family leave policies or flexible work arrangements.
How Can Employers Support Working Parents?
Remote Work Options: With the return to office in full swing, employers need to simply recognize that kids get sick. Allowing employees to work from home offers a distinct advantage.  It makes all the difference to be able to take a mid-day appointment with your child's pediatrician.  In fact, a FlexJobs survey reported that two-thirds of working parents called remote options a top workplace priority. Additionally, 62% said they would quit their current job if they couldn't work remotely at times.
Flexibility: Another key tool employers can offer is flexible hours.  Kids' schedules often don't match up with their parent work schedule.  Flexible hours allow parents to make appointments during the day to care for a sick child, allowing them to work in the evening or in the early morning while children are still sleeping is helpful to manage responsibilities both at work and at home.
Empathy and Understanding:  Show compassion and understanding when employees need to take time off due to sick children.  Avoid making them feel guilty for needing to prioritize their children's health.
Cross-Training:  Cross-train employees or have a backup plan in place so that work can continue smoothly even when someone needs to take unexpected time off.
Employee Assistance Programs (EAPs):  Working parents can often feel isolated as employees, struggling with responsibilities they aren't typically encouraged to share with others.  Offer access to EAPs that provide counseling, resources, and support for managing work-life balance and stressors related to caring for sick children.
Remember that supporting working parents with sick children not only improves employee morale and retention but also contributes to a positive company reputation and a more productive work environment.  Offering support to employees helps them thrive in their job as well as at home.