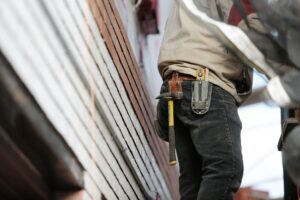 Natural disasters create opportunities for unethical contractors, and consumers need to be on the alert.
Post-disaster repair scams typically start when a contractor makes an unsolicited visit to a homeowner and pressures the homeowner to pay the contractor their insurance claim money – then disappear without doing the work.
Triple-I is teaming up with the National Insurance Crime Bureau (NICB) during the NICB's Contractor Fraud Awareness Week (July 12-16) to educate the public about such frauds and how to avoid them.
Before hiring any contractor, consumers affected by a natural disaster should call their insurer. There's no need to rush into an agreement. Homeowners should inspect all work and make sure they are satisfied before paying. Most contractors will require a reasonable down payment, but no payments should be made until a written contract is in place.
The NICB offers these tips to homeowners before hiring a contractor:
Be wary of anyone knocking on your door offering unsolicited repairs to your home.
Be suspicious of any contractor who rushes you or says the government endorses them.
Shop around for a contractor by getting recommendations from people you trust.
Get three written estimates for the work and compare bids.
Check a contractor's credentials with the Better Business Bureau.
Always ask for a written contract that clearly states everything the contractor will do.
Never sign a contract with blank spaces because it could be altered afterward.
Never pay for work up front and avoid paying with cash; use either a check or credit card.
The NICB Post-Disaster Contractor Search Checklist explains the contractor hiring process step by step.  Anyone with information concerning insurance fraud or vehicle theft can report it anonymously by calling toll-free 800-TEL-NICB (800-835-6422) or submitting a form to the NICB.
"Acting as communities' financial first responders, insurers rebuild damaged homes, cars, and lives after a natural disaster," said Triple-I CEO Sean Kevelighan.  "The Insurance Information Institute is proud to join forces with the NICB to educate consumers and communities about how to best prepare and recover economically."
"Victims of disasters are under tremendous stress as they are often pulled from their homes, fight heavy traffic attempting to get to safety, all while leaving their home and belongings behind," said NICB President and CEO David Glawe. "When they go home, they are exhausted and strained, a time when they are most susceptible to these fraudulent schemes."