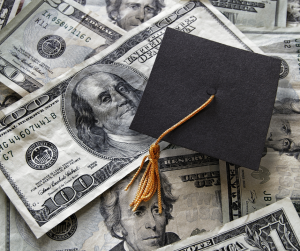 In the U.S., the outstanding balance is $1.75 trillion in student loan debt.  Approximately 55% of students from public four-year universities have student loans, with a balance of $37,338 owed per borrower.  Beginning in October, workers nationwide will need to resume payments on their student loans for the first time since March 2020.  The pandemic-related pause on both payments and interest accumulation that is ending is a stressor for employees who are increasingly seeking financial assistance from their employers.
People across all age groups struggle to balance student debt and retirement savings.  It is reported that as many as 81% of people with student loans have needed to delay important life goals such as retirement or buying a home.  Contributing early to a workplace retirement account is important so that employees can maximize the effect of compound interest in retirement.
3 Major Ways That Employers Can Help Their Workforce Pay Off Their Student Loans and Save for Retirement:
Student Loan Repayment Assistance Programs – Employers can offer their employees student loan repayment assistance (LRAP) as a recruiting and retention tool.  With LRAP, the employer makes monthly student loan payments to the employee's lender, helping the employee to repay their student loans quicker.  Additionally, through 2025, employers can repay up to $5,250 a year tax-free on employee student loans through the 2020 CARES Act.
401(k) Match for Student Loan Repayments – In December 2022, the Securing a Strong Retirement Act (SECURE 2.0) became law. This law – which starts in January 2024 – allows employers to match contributions to workplace plans – including 401(k)s, 403(b)s, 457(b)s, and simple IRAs – based on an employee's qualified loan payments.
Financial Literacy Programs – These educational tools can help teach employees how to develop a budget and savings plan, create attainable goals, project retirement needs, purchase a home and manage mortgage options, and manage debt- including student loan and credit card payment options.
Let's face it, work isn't the only thing stressing employees out – money can be a huge source of anxiety and a constant source of stress.  With millions of Americans struggling to repay their student loans and/or save for retirement, this financial pressure can seep into their performance in the workplace.  And managing finances isn't just stressful – it's time-consuming. Having access to financial well-being benefits and resources can empower employees to get on the path to financial prosperity.