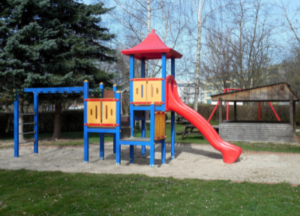 Hello, spring! As the days get warmer and longer, it's a good idea to inspect your property and ensure it withstood winter's harsh conditions and is ready for severe weather season – and lots of use.
Check the following outdoor spaces to ensure they are in good condition. If you see any signs of damage or disrepair, fix them immediately.
Playground
If you have an on-site playground, take a close look at the equipment and surfaces to ensure they're ready for the youngest members of your congregation. Warning signs to watch for include:
Sharp edges
Rust and peeling paint
Loose parts
Protrusions or projections that could catch on children's clothing
Tripping hazards like exposed concrete footings, tree stumps and rocks
Hard, compacted surfaces that wouldn't cushion a fall or prevent injury
Go here for more information on how to make your playground an even safer space.
Air Conditioning System
It's a good idea to give your air conditioner a little TLC now, before you really need it. After all, the last thing you want is for it to break down on a hot day. Maintain yours by:
Scheduling a tune-up with a qualified HVAC contractor, who can review all the working parts and recommend repairs as needed
Removing weeds, leaves, grass and debris around the condenser unit. (Shut off power to the unit before performing any maintenance.)
Regularly replacing or cleaning the air filter. (Again, shut off power beforehand.)
This air conditioner maintenance article offers more pointers for keeping your unit in tiptop shape.
Parking Lots and Walking Surfaces
Slips and falls are a leading cause of injuries at houses of worship, so make sure that building entrances and parking areas are well lit and that sidewalks and parking lots are free from uneven surfaces, holes and depressions. It's not unusual to find potholes or damage to parking stops, speed bumps or curbs after a hard winter. Make any necessary repairs. This article offers additional parking lot safety guidelines.
Drainage System
The first step in preventing water damage is making sure your drainage system works correctly. Gutters, downspouts and eaves should be free of debris and functioning properly. All downspouts should extend at least six feet away from buildings and in-ground piping should be checked for proper drainage.
Roof and Trees
Consider hiring a licensed and insured professional to make any needed roof repairs if you find any of the following:
Missing or damaged shingles, or shingles that are buckling, curling or blistering – these are indications that shingles need to be replaced because they're hindering the roof from diverting water
Surface bubbles, long cracks caused by splitting, and areas with missing gravel on a flat roof
Inadequate flashing or caulking around vents, chimneys and other roof penetrations
Evidence of water damage, including rotten wood, damaged walls or stains on interior ceilings
Trees can also damage property if they are not maintained. Have limbs trimmed away from the roof and from overhead power lines. Also inspect the trees on your grounds for rot and age, and, if necessary, have trees removed by a professional.
Regular facility inspections and corrective action will help protect your physical property and your congregation. Here are monthly and annual checklists to guide you through these inspections.
ChurchInsure is a division of Anchor Insurance Agencies specializing in the unique insurance and risk management needs of religious institutions. Visit our website to learn how we can serve you at anchor-insurance.com/churchinsure.
By Katie Rynard
Originally posted on GuideOne